BBC TWO Wanted in Paradise
Shot 2 Episode in Khanom and Phuket
Director : Paul Barnett
Researcher : Lee Cooper
Synopsis :
Khanom : Andrew wants to escape the rat race and open a bed and breakfast in a little-known part of Thailand. He's desperate to open a business he has no experience of, in a country he's never been to, and his partner Matt is far from convinced.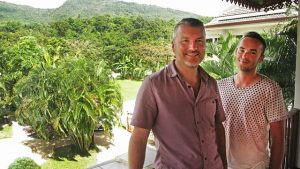 Phuket :  Commercial diver Alex Summers wants to abandon the Glasgow climate with his partner Jane and young baby for a new life in Thailand. He and his family are used to him being away for long stretches of time, but
for Jane it's a different story. She's never left her native Glasgow and would miss her sisters terribly if they were to make the move. Will a week putting a new life on the island of Phuket to the test persuade her to make the move?